Meon Grange, Warnford Road, Corhampton

Client: Bryant Homes, Value: £100,000
Reliable service and excellent value for money. Thank you

Which of your products/services were used:
Acoustic barrier, Railings, Hoarding, Closeboard & Gates on Timber & Concrete
Project Overview:
70 Unit Development including open spaces on old School site.
How you brought additional value or innovation to the project?
Again this is a fantastic example of the versatility of our products, this development is very close to the busy Eastern Road, one of only three major routes in and out of Portsmouth. We were able to take the specification provided by the developer and build the acoustic fencing exact to this. Again due to the fact we have our own workshop, we are able to fulfil such orders without having to use third party suppliers.
The development:
Bryant Homes are renowned for their high standard of build quality. We are regular winners of NHBC Quality Awards. Our homes are expertly designed to provide an efficient layout of floor space, giving great value for money. Our selection of options and extras gives you a great opportunity to personalise your new home.
Surrounded by water and packed with energy, Portsmouth offers an excellent quality of life, andWaterside Park – offering 2 bedroom apartments and 3 & 4 bedroom homes – allows you to enjoy the city to the full.
Other projects

Project 2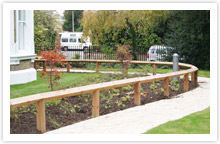 Client: Linden Homes
Where: Park Centrale, Southampton
Value: £250,000
Specialist Bin/Cycle Stores, Railings, Closeboard & Gates, Hoarding &
Knee Rail.
Project 4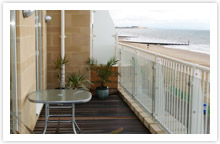 Client: Barratt Homes
Where: Honeycombe Beach, Boscombe
Value: £400,000
Goat Fencing, Beach Huts, Hardwood Decking, Hoarding.